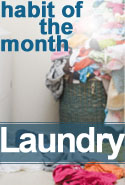 Dear FlyLady,
There are no laundry machines in my apartment and the laundromat is miles away through sometimes crawling traffic — and expensive.
As I live alone, and work at home, with no children, my laundry demands are fairly modest.
Undies and light objects can certainly be done in a bowl and last longer when washed by hand, but "hands" aren't the only option!
I have a "washing machine" for sturdier items (such as shirts and jeans): a utility bucket with a hole in the lid through which passes the handle of a rubber plunger (used ONLY for laundry). I fill it while I'm in the shower with water that would otherwise be wasted. Add soap and laundry. A few minutes of plunger action is little different from a real washer except for the useful aerobic exercise.
And at bucket scale, I MUST do (if not "a load a day!") small loads on a regular basis.
If not, my penance is a long haul to the laundromat with piles of quarters.
The real problem is drying in humid weather, sometimes best achieved by a trip to the big driers, but in winter, drying clothes hung by a radiator just help improve the dry air.
Not for everyone obviously, but an option for me. And in 15 minutes too.
Cheers!
Carol
Dear FlyLady,
I just received
my calendar
in that mail after a year and a half of procrastinating to actually get one!! What was I thinking? Well, I know what I was thinking, it is too expensive, I always get a calendar (or two or three!!) for Christmas and I always make it work, and again, I don't want to spend the money since I always have a calendar.
I just wanted to let any other FlyBabies know that if they have the same concern I have, the calendar is more than worth it!!! With the
giant calendar
FlyLady also sent a purple pen that says "I'm so proud of you." The spaces to write in are huge and I won't have to write in mice print to fit everything in on one day if I have more than one activity planned. What a concept!!
And for all of you who are worried about the price as I was for all this time: I understand having a tight budget. I have a family of four, (with one more on the way!!) am a SAHM (Stay At Home Mom), and my hubby works extra hard but he still only has an entry-level job. I would never suggest you do anything to mess up your finances, but if there is any way you can save up the money that it costs with shipping, do it, it is way more than worth it. In the store, a calendar of this quality would cost more and would not have such motivating items included.
Thank you FlyLady for offering such awesome products, and motivational emails that help us to keep peace and sanity into our homes and the CHAOS out. THANK YOU!!!!!
M
Fluttering around in Bellingham, Washing
ton