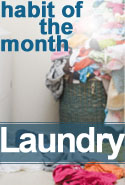 Dear FlyLady,
Awhile back you had simplified instructions to doing the Laundry.
It was:  Sort, Wash, Dry, Fold and Put Away.
This is so brilliant and I've passed it along to many people and I say it to myself every day!  I looked quickly on the site and didn't see it. Since the month's habit is Laundry,  I think others would appreciate this tip!
Thanks for all you do for us.
Love,  peace,  and best regards,
Candace
Dear FlyLady,
I wanted to write to share a
Purple Rag
Revelation! I am so excited, because I received your purple rags in the mail a few days ago and have been using them everywhere in my house ever since.
My revelation, however, came when I was at work today. I teach first grade.
Eighteen 6 and 7 year olds bring a lot of dirt to class along with them! The tables get so dirty, with the glue, the pencil shavings, the sneezing and runny noses. It gets pretty bad. Also, because of health regulations, we are not allowed to use any cleaners.
I have used warm water and paper towels, sponges, etc….even "forbidden" cleaners a few times.
Today, while straightening up at the end of the day, I was thinking about my After Work Routine, when I remembered the
Purple Rags
! They will be perfect to get up the grime 🙂 Thanks for everything!
Laurie
FLYing in Central Texas