Hi FlyLady,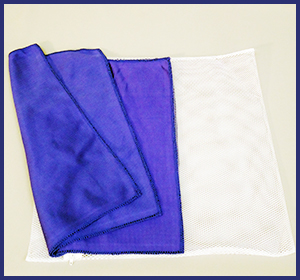 I found another use for your wonderful
purple rags
. I play Horn (that's "French" Horn in Americanese) in a mostly volunteer community orchestra.  When I put on my formal black attire for a concert, the bell of my horn, which rests on my right knee, wants to slip and slide, putting extra stress on my hands and arms to hold it in place.  So, I laid a
purple rag
, rough side down, on my knee, and my horn on the rag.  It solved the problem.  And for a bonus, I used it to wipe all the fingerprints, valve oil residue, etc. from the shiny surface, which helps extend the life of the silver lacquer and keeps my 42 year old horn looking its best. Needless to say, I use my
purple rags
for many of the usual purposes, and love them enough to entrust my beloved horn to their care.  In the past, I've used chamois and other cloths, but this stays put and looks ever so much prettier.
Thanks for all your wonderful products, and for all you and your staff do for all of us.
FlyBaby D in S. Florida