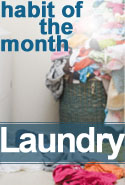 Dear FlyLady,
I've been enjoying your laundry tips, I especially liked the one about dealing with pairing socks.
I did as was recommended and took my increasing pile of 'can't be paired, awaiting its friend to appear pile' and gave it all whites and colours a quick cool wash.  Hey, presto, I got a 60% match rate, found it was much more fun pairing clean socks outside on the washing line.
I don't own a tumble dryer, well one built into my washer but it never does the job like a separate big dryer.
So in the winter all shirts, and tops go straight onto their plastic hangers, up onto a rail, I use our small bathroom.  Then I use a £100 desiccant type dehumidifier in the room, put it on laundry mode, and I can have three loads dry in 3-4 hours.  Socks and smalls go on a hanging peg tree bought from a cheap store for about a £1.
Folding baskets also keep me sane!
A load ever day as you say, loving the tips from over the pond in the UK.
Lee
Dear Flylady,
In December I ordered two
handy scrubbas
(along with dish brushes and my second set of purple rags.)  The box arrived on the same day as the call that my father-in-law was in the hospital.
My quick packing for the long trip included the unopened box from the
FlyShop
.
The next few days were a whirl of family meetings and meals and arrangements.  All difficult.  Somewhere in all the big things going on, my black fleece coat went into a washing machine with a light blue bathmat and was ruined.  I set it aside and forgot about it.
Dad passed away within the week.  I was given the honor of writing and presenting his eulogy.  My head was so cluttered with the amazing life that this man had lived and the emotions of losing him.  I could not write.  I was frozen.
So I opened my FlyBox to distract myself.  I was in my in-laws' laundry room when I pulled out the
handy scrubbas
. 
The ruined coat was hanging by the door.  I absent mindedly stroked it with a handy scrubba.  Balls of fluff from the bath mat pilled up and fell to the floor.  Encouraged by the success  of a small task, I laid the coat on an ironing board and began to methodically brush each section.  As my hands worked, my mind wandered.  I remembered how Dad was always puttering and fixing things.   I began to think of our many conversations and the stories he told about his life.
I'm not going to lie and say that the handy scrubba magically cleaned that coat to perfection in no time at all.  The fluff was deep into the fleece and it was tenacious.  I worked on it quite awhile.  But, by the time the coat was clean, I had a really good eulogy outlined in my head.  It almost wrote itself.
Since this is a new item, I thought you might like to know what a good job it does at cleaning out Writer's Block.
Thanks,