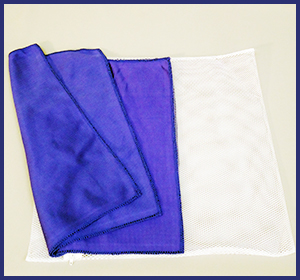 Dear FlyLady,
Over the years, I've read many uses for the
purple rags
– but none quite like this.
Last night, a quart of latex paint slipped from my hand (carrying too many things at once). When it hit the floor, the lid plopped off and paint puddled all over the carpet (about one fourth of a new can!). My first thought was to get the excess off the rug. After much scrambling, hollering for help, etc., I managed to scrape up the worst from the surface of the carpet. My DH and I worked to get the mess cleaned up as quickly as possible with lots of water on the carpet followed by sucking up the water with the shop vacuum. I was so focused on saving the carpet, I didn't even think about the walls. Once the carpet began to show signs of 'complete recovery,' I looked around and saw multiple drying paint splotches on several of the walls, electrical outlets and the door into the area where we store our paint and supplies.
My first thought was – I wonder if a purple rag will be able to get up that dried and drying paint?  I grabbed a purple rag, a bucket of soapy water and went to work. It took a lot of scrubbing, but the nubby texture of the purple rag took that paint off the wall, off of the door and door jamb, and removed paint splatters from our dehumidifier that was sitting nearby.  My next thought was….oh no! I've ruined a purple rag! Not so. I soaked that magic purple rag in warm soapy water and this morning you cannot see any paint remains.
A few years ago, either you or a FlyBaby wrote a long list of things that a magic purple rag could do. Cleaning up freshly dried paint should definitely be added to the list – because it is a great stress reducer when you experience what I did last night. I've decided to store at least one purple rag (I have two sets) on each floor of the house. You never know when a purple rag will come in handy and for what purpose. .
Thank you for offering proven products that truly help us keep our home clean and help us keep our house cleared of clutter.
Just another grateful FlyBaby