Dear FlyLady,
I read your suggestions to clean the dryer vent, and asked my DH to help me, as I can't move the dryer by myself. So what happened? Procrastination. (his!)
I knew the clothes weren't drying properly, having to "touch up" a couple of times to get them completely dry. Just couldn't get him motivated to help me.
I was in the back yard, looking at a bird with my binoculars yesterday evening, just before dusk. I don't know why, but I got the idea to check the dryer vent outlet-It's on the roof-with the binoculars. I could see the opening of the vent was completely clogged with lint. It looked like a white sponge. I dragged DH out there and made him look, well, that got his attention.
So this morning bright and early he was up on the roof, and got all the clogs out of the opening. It has a little flapper to keep bugs out, I guess. We had to bend a coat hanger to go up and over the flap to get everything loose. Then we pulled out the dryer, and used a plumbers snake with a dusting cloth on the end to pull out all the pieces of lint. We opened the panel on the back of the dryer and used the shop vac to get all the dust and lint out of there as well.
Whew. I'm so blessed we had no damage to the dryer, and there was no fire.
Thanks for reminding us from time to time, I'm sure you saved us at the least the money to fix the dryer, at the most, a tragedy.
Fluttering in Florida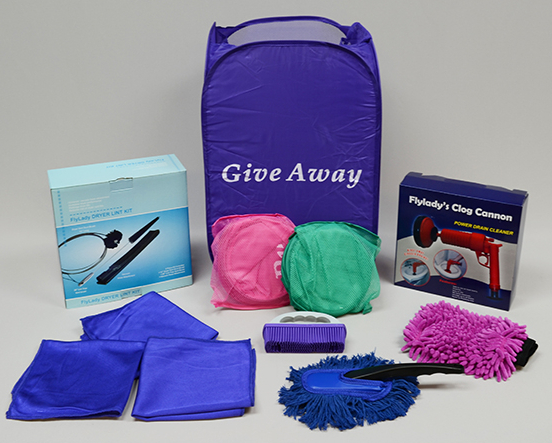 FlyLady here: Many of you have ordered the Dryer lint kit and you have not used it yet. What are you waiting for?
You can do this! I am tossing this challenge out to all of you who have been procrastinating.
Your family's safety is the most important thing.