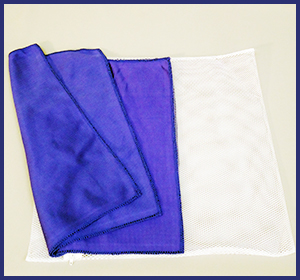 Hello,
It seems like I just emailed you about how wonderfully it works following your decluttering and zone cleaning and everything, but my husband insisted I send you this testimonial.We just finally put up wedding pictures (a year later!) and, of course, had to get new frames for the pictures.Well, my husband cleans the glass of frames every time he puts a picture in – they tend to be quite dusty and dirty when they come from the store and often have that sticky gluey gunk on them. Usually my husband says it takes forever to get glass even remotely clean and usually that gunk doesn't come completely off.This time I told him to use my purple rags I purchased from you guys about a month ago. I told him all he needed was one rag wet with water and another dry. He used them and was raving the whole rest of the day about how amazing they were. The glass got clean in no time at all and there were no streaks to deal with after cleaning!
"You have to tell the FlyLady how impressed I am with these!" he kept telling me.
Speaking of him and his love for your system … tonight I'm quite tired but the sink is full of supper dishes and I just wanted to leave them until tomorrow (as I'm a teacher I don't work during the holiday so I figured I'd have time). It's ok to break the routine sometimes, right?
Well, he said he'd do it for me because, and I quote, "I love waking up to a shiny sink so I will do it for you this time!" Isn't my husband wonderful? I'm so glad I have him on board with me with the whole FlyLady thing; it is great to have his support!
Jen in Winnipeg
********************
FlyLady here: I want you to learn to FLY for yourself….and it is always a joy when the ones we love join us on the journey toward peace.
The purple Rags in A Bag are amazing!! They clean glass and leave no streaks! Your rinse them out and let them dry and you can use them over and over.