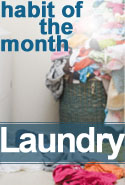 I always had a problem with laundry but one day I had a Ah ha moment. I bought some of the fold up kind of baskets they don't take up as much floor space. I have one for whites and one for colored clothes. Okay, that solved the sorting problem.
That was not enough. I thought and thought and then another Ah ha moment. I started washing different laundry on different days.
Monday – sheets and towels put back on bed and in bathroom
Tuesday – my DH clothes folded and put away.
Wednesday – clothes that need to be bleached folded and put away.
Thursday – my clothes some need to be hung to dry the others put away.
This made it so much easier not as many clothes to deal with at one time and I never leave the laundry room without them being folded or hung on hangers. This way they can be put away as soon as I get in the bedroom.
The funniest thing about it is my DH even knows what day everything is done on. He has even shared this with all of his friends because their wives seem to have the same problems with this chore. You never know what men talk about when they are together. HA HA This worked really well for me.
Now I don't need to worry if my DH wants us to go off for the weekend. We can even leave on Friday nights if we want to. This makes my life so much easier.
I just want to thank FlyLady and everyone else for all of the ideas that can make our lives more productive.