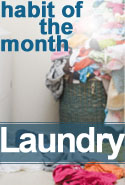 I have been fluttering for about 5 years now.  Some things are in order but other parts of my life/house are still in chaos.  I remind myself to take babysteps and whatever I can accomplish is better than nothing.  I work a 60 hr week with a schedule that changes each week, so routines can be a challenge for me.  But some of the routines are sticking.
One that was a lifesaver for the last month was the laundry routine.  Each member of the family has their own laundry basket.  Fortunately my oldest DD  and DH do their own laundry.  But I still do the laundry for the youngest DD and any general household laundry like sheets and towels.  We have developed a routine in our home so there is no mount laundry anymore. I do laundry 3 days a week, DD and DH do laundry 2 days a week so everything is under control through the 5 laundry days.
A month ago, I was doing yard work and came in contact with poison sumac. It was a mild case, thank goodness, but each day I got up out of bed, changed the sheets.  Each day after the shower, the towels went into the laundry just to make sure I wasn't spreading it.  Once that seemed to be under control, my two DD came home from camp with lice.  To get it under control, I was daily changing sheets and laundering towels.
The routines I had developed for laundry helped me through what could have been a rough month.  Every day I did a load of laundry just like a typical day.  I was not panicking because of the poison sumac or lice, because I knew that I could manage because a load a day was not out of the question because I have been doing it for four years now.  I can't imagine what would have happened before I started doing laundry the FlyLady way. I probably would have run out of clean sheets and towels and had piles of laundry everywhere.  Thank you.