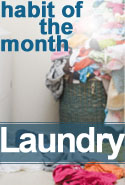 Dear FlyLady,
I was thinking this may help some people as well who hate such as me to do laundry! Thanks to you, this is our laundry routine.
I have two teenagers and designated simple chores for them a long time back. Each one does their OWN laundry on Fridays.
We have found using the closet works like a dream.We have put in closet organizers so everything can be hung.  That way it is easy to see what we have to put out the night before to wear the next day.
All of us have stain sticks in our closets. We pre-treat ahead of time. There are stain sticks like Spray and Wash that you can do NOW instead of later. Which makes laundry easier as well on wash day.
We do all our sheets on Fridays and the kids do their clothes as well then. It " can " turn into Mt. Washmore a little bit. But it is my job to keep the sheets and blankets moving. And then back on the bed. Next, we do towels everyday. It is very " EASY PEASY " for DS to turn on the washing machine at night after everyone is done. Throw them in the dryer the next morning. His job to fold them after school which takes five minutes.
Next our laundry, DH and mine, so twice a week with working and such we seem to have more clothes. I have to iron them which I can procrastinate on. But laundry is MUCH easier this way!
Julie