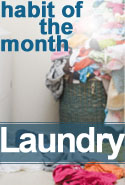 Dear FlyLady,
I'm single, own a large hairy German Shepherd and work 60 hours a week…not counting volunteer hours.
I've gotten rid of my laundry baskets (per another FlyBaby) so I'm not buried. But I don't have enough laundry for one day. So to build my habit on days I don't have enough dirty clothes for a load, I spend my 15 minutes winding down for bed. I watch my show on Netflix in my bedroom, and I pull out clothes for Goodwill. I've also managed to get rid of all mismatched socks so far this month during this 15 minutes.
When my mother visited last weekend, she was so impressed with my clean bedroom. No piled-high laundry baskets (I gave those to her…LOL) and nothing on my floor.
This is by far my favorite habit.
FlyBaby N