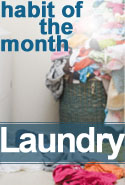 Dear FlyLady,
The load of laundry a day is my favorite habit! How did I not figure out how much easier my life would be by doing this? So simple!
I have added the swish and swipe to my washer every day as it gets emptied. I have a front loader and they have a problem with collecting water in the front seal and smelling horrible. The manufacturer suggests leaving the door open to let the odor out, when not in use. Well, I was cleaning it with my purple rag one day and got a lot of gunk off the seal and also dried the standing water inside the seal. Light bulb moment! Just swipe it every day and the gunk and water won't accumulate! Plus it only takes about 15 seconds each day. I also wipe off the glass door and honestly, it looks brand new!
Another Flybaby mentioned using the timer on the washer to turn it on as a means of getting it started. I, too, have been using this method and there's something psychological about having the load already washed when I get up in the morning! I feel like the job is already halfway done! Love this tip.
Thanks for all you do! May God Bless You!
Esther in Central Ohio