Dear Flylady:
This will be short and to the point.  I have been trying to think of one thing I have learned from reading all of your emails over the years that has had the biggest impact on my life.  I finally figured it out.  I have struggled with keeping up with housework and had gotten real cranky with my husband of 40+ years for not picking up after himself or rinsing the bathtub after he gets done, or putting his dirty clothes in the clothes basket (etc….etc…..) until in one email you pointed out that if I do do those things I'm blessing my house, my husband and my self all at the same time.
This piece of wisdom totally changed my mindset about doing those things and now my husband is doing much better about most of the above mentioned chores.  I think it just took me doing them without complaining (herein lies the crankiness I mentioned) to lead him to help out more.  I can honestly say I have a greater peace in my heart about housework now.
Well so much for "short"!
Love you Flylady!
Susan in Illinois
What are you waiting for? Procrastination hurts you!
Pre-Order Calendar Sale is Almost Over! Don't Miss Your Chance to Save 45%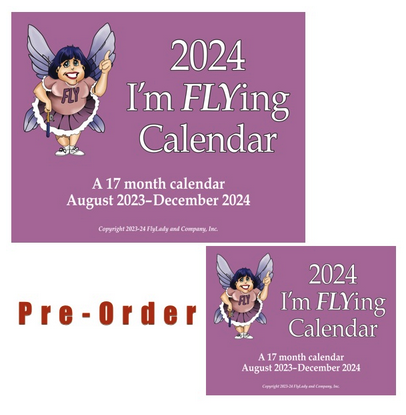 Be the First to Get Your 2024 FLYLADY Calendar! Use Coupon Code GETREADY to Save 45%!
Discontinued Notification! We have have a Last Chance Section on our website that doesn't need a coupon code!
The 2024 Calendar is also included in the Complete Pack!
Debuting in the FlyShop, our newest tool for many tasks.
A WAFFLE-WEAVE MICROFIBER DISH TOWEL