Hi there!
It has taken me a few months to get through the 31 baby steps. I decided not to beat myself up over it though, as I am glad I actually took it slow enough to let it all sink in and not burn myself out like I have in the past. This is the furthest I have ever gone with the Flylady system, and I am really proud of myself.
I am both excited and scared to send this email, as it means I am done with the baby steps and graduating to the Flywashing emails. I know I have come at this Flylady with a different attitude this time around, and that this time I am truly embracing it. I shouldn't be nervous. I am excited!
Thank you Flylady and crew for all that you have brought into my life. You have given me hope, and a new path. I am improving everyday, and that is great news for my DH and two DSs, and they are happy for me, they are proud of me.
Thank you Flylady.
Love, Flybaby in the Rockies
What are you waiting for? Procrastination hurts you!
Pre-Order Calendar Sale is Almost Over! Don't Miss Your Chance to Save 45%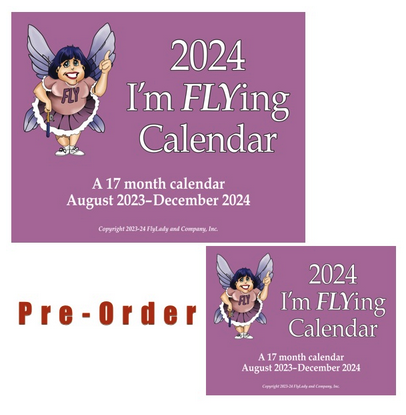 Be the First to Get Your 2024 FLYLADY Calendar! Use Coupon Code GETREADY to Save 45%!
Discontinued Notification! We have have a Last Chance Section on our website that doesn't need a coupon code!
The 2024 Calendar is also included in the Complete Pack!
Debuting in the FlyShop, our newest tool for many tasks.
Do You Love the New Kitchen Towel as Much a We Do? Send Your Testimonial to FlyLady@flylady.net!
A WAFFLE-WEAVE MICROFIBER DISH TOWEL