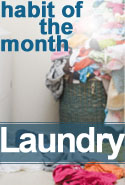 Dear FlyLady,
Since this month's habit is laundry, I'd like to tell you about how I climbed Mt. Washmore. I was inspired by another FlyBaby's laundry routine – it sounded simple and managable, so I gave it a try. I set up a weekly laundry routine based on our household schedule and types of laundry: Monday – None (my favorite – ha!)Tuesday – Mom & Dad's hamper #1 in our room (my & DH's everyday clothes)Wednesday – Bathroom hamper (towels, cleaning rags, dishtowels, & linens)Thursday – My toddler's hamper Friday – Mom & Dad's hamper #2 in our room (my & DH's work clothes, & any delicates)Saturday – Mom & Dad's hamper #1 in our room (again – it fills up fast!)Sunday – My stepson's hamper This routine is taped to the wall in the laundry closet, so everyone knows. Also, I run the washing machine when I get up in the morning, so it's done before I leave for work. (I don't run our appliances when no one's home.) When I get home, I just have to put the clothes in the dryer, and I'm not tied down to the laundry all evening. The world doesn't end if I miss a day – I just make up for it during the week. Focusing on one area of the house saves the time I used to spend putting away clean laundry in every room. I did buy extra hampers for some rooms, but you can find inexpensive and attractive ones if you shop around a little. Mt. Washmore used to be a normal, daunting way of life, but I have not faced it in over a year.
Happy Laundering!
Betsy
Dear FlyLady,
My new and now favorite pampering is a FlyLady
Calendar
JUST FOR ME!
I keep it in the bathroom closet where I get ready and I can make sure I'm doing the right things on the right days and at the right times of day! I no longer have to remember what to do when or what I did this morning BEFORE my morning coffee fix!
I have a
FLY Calendar
for the family but there are so many things to keep track of for ME….and these great calendars actually have the space to track it all! Potions, pills & creams… each seemingly need their own secretary to keep track of their specific schedule! Alternating products? Did I take my pills? HOW TO KEEP TRACK? It's a great central place to make sure I've done everything before I walk out the door…or go to bed at night.
It's also fun to schedule MY BATH/SPA TIME…which really doesn't need to be on the family calendar! A GREAT PAMPER tool that I has blessed me with additional freedom from stress!
I started it a few months ago when I got next year's calendar and had room & time to play with the months that overlap… I was hooked after a few weeks and had to order a second one for 2013!
Happy Pampering fellow FlyBabies~
From a far more organized and relaxed than I used to be thanks to the Fly Calendar!
FlyBaby Down Under