Dear Friends,
There are times when our husbands get frustrated  and use FlyLady's words against us. I know occasionally Robert will point an accusing finger and say "Hot Spot!" but I know he is doing it in jest and not in an ugly manner.
Just this morning, I heard about one member whose husband had taken a quote from our old Comfort Zone Calendar and used it as a deadline for his wife to get their home decluttered. Here is the quote from our old perpetual calendar.
It will not happen overnight, but in around 3 months of consistently doing your routines, Basic Weekly Plan, and your zones, you will have a home that is ready for company at all times.
Well I am here to tell you that it took me almost 9 months of decluttering to get our home clutter free. But here is the part that kept me going. I was doing it for me and not because Robert wanted me to do it. As FlyBabies we can get very rebellious when anyone wants us to do something; especially when they keep throwing it up at us. I don't know why this happens. I don't like to think about this attitude being intentional but it probably is.
What I see happening is that one party starts whining and it causes the other party to continue the whine! Before you know it; whining is happening everywhere. Blame is being tossed around and feelings are getting hurt; all because we are not loving each other.
Another thing that happens is we get so caught up in wanting to see everything cleaned up in an instant that we can't take the babysteps needed to establish simple routines. We spend all day putting out fires. You know the fires I am talking about; laundry at Mt. Washmore or dishes piled to the ceiling. As we take the time to concentrate on one raging fire; everything else has to be put on the back burner. Now I understand that there are still babies to be taken care of and you have to take care of yourself. This is why your babystep routines are so important to the over all feel and look to your home.
Here is another problem. The husband knows that she has been a member of FlyLady since 2008; yet he doesn't see the progress that she has made by having dinner cooked more regularly and some of the clutter being gone. He wants things perfect! Oh how I hate that word. Perfection is not made for mere mortals. When it is used as a whipping tool, it is wrong.
No house is going to be perfect when you have two children who need your attention. We can't spend all day cleaning, but we can spend a few minutes; if we just will do it and quit looking for whole days to clean. This is when OUR perfectionism is taking over. Two types of perfectionism are hurting this family; the one who wants it now and the other who can't find the time to do it. You all know how I feel about this "I Don't Have Time" attitude.
I will say that some FlyBabies need to take it slower than others; but that is because of health issues. If you can't seem to accomplish anything and you feel like you are spinning your wheels then please go to the doctor and have a full thyroid panel run.
Please don't allow yourself to look at the whole picture of your messy home and get overwhelmed. Focus on one flat surface at a time. Concentrate that focus on the living areas of your home. Start in your living room. If you have to; bag up all the clutter and put it in your messy garage. The garage has been messy for a long time and one more year is not going to matter; because as you get the main areas of your home clutter free your routines will fall into place too.
Remember babysteps will get you there. Stop trying to bite off more than you can chew at one time. This is one reason everyone is getting frustrated. Another reason is that her husband could just be a bad man for not helping and only criticizing. If that is the case; she still has to clean up the clutter for herself and those precious children that need space to grow and thrive.
Clutter closes in on us. She may be surprised at the changes she will see when she does it for these reasons. If he is a bad man; the house will never be clean enough to make him love her. But if you have cleaned it for you! As their home gets cleaner; he will find more things to be upset with. His anger will be addressed more toward her and less toward the house. Then you will know that you have done all you could and he just has a character flaw! If he is not a bad man and just a frustrated one then he will start to help her as he begins to see changes in the living and loving areas of their home.
Forget the garages for now. Stay focused on the main areas of your home. Rent a dumpster or a Uhaul truck to take of your excess because this clutter is ruining your life!
I want you to FLY! But you have to want it too! Don't punish those around you because you don't think you have time! We all have 15 minutes a day to declutter. Sometimes we need to Crisis clean just to see some major progress and to shut up the nay-sayers in our lives. Do it for you! And then you will know what kind of person he really is!
Here is a link to Crisis Cleaning 101; we have all done this when company is coming; now we are going to do it with you for the company. Don't you deserve to be treated like company!
FlyLady
P.S. If you have any testimonials that reflect changes in your husband after the clutter is gone please send them to me. FlyLady@flylady.net and put HUSBAND in the subject line. Thank you!
We have everything you need to keep your home shining! Sometimes we need a little motivation. Our efficient tools give us a jump start! They make a tough job fun. If you make it fun; it will get done!
FlyLady here; Super Cruising Missions have started. Go download your free Holiday Control Journal.
Christmas Sales to Save You Real Money!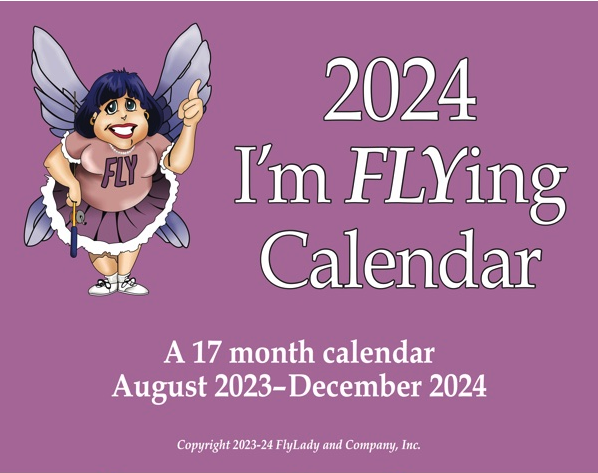 Get Your 2024 FLYLADY Calendar! Use Coupon Code READY45 to Save 45%! This is a Brand New Coupon Code!

Discontinued Notification! We have have a Last Chance Section on our website that doesn't need a coupon code!
The 2024 Calendar is also included in the Complete Pack!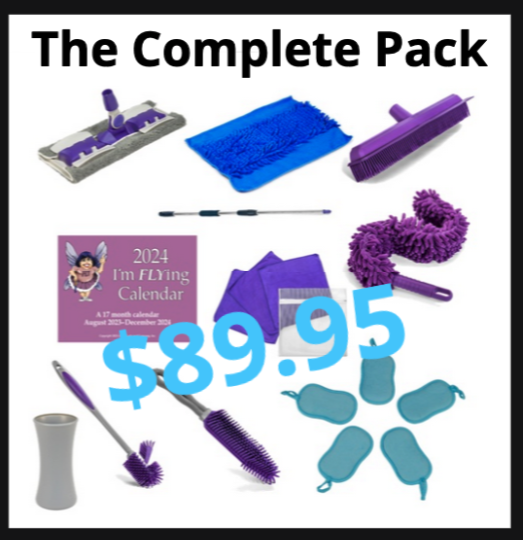 Now is the time for you to take advantage of this great sale!